Happy St. Patrick's Day to all our friends and clients who recognize that everyone is Irish on St. Patrick's Day. Here's our recommendations for how and where to enjoy the best of the best on St. Patrick's Day in New York City (in no particular order):
#1: The Finest Guinness Draft in NYC may be found at Paddy Reilly's on 29th/Second Ave, where Guinness is the only beer they pour.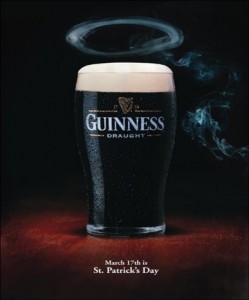 #2: Try a Jameson's Irish Coffee at The King Cole Bar of The St. Regis Hotel.
#3: Enjoy a glass of Tullamore Dew Irish Whiskey at Hudson Malone's Midtown Pub, by the way this happens to be one of our favorite ads:
#4: Bailey's Irish Cream On The Rocks At Bemelmans Bar At The Carlyle.
#5: A Paddy's Irish Whiskey is served best at Pete's, The Oldest Tavern in NYC.